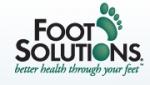 Foot Solutions
(908) 879-7300
Shop-Rite Mall
Rt 206
Chester, NJ 07930
email: chester@footsolutions.com

Visit Our Website: www.footsolutions.com/chester



| Average Rating: 5.00 |
Welcome to your Chester Foot Solutions.
Do you begin or end each day feeling as if you can't take another step because of foot pain? Hate shopping because you can never seem to find just the right size or width to fit properly? Suffer from arthritis, bunions, heel or arch pain?
We have your solution! Foot Solutions
FOLLOW US ON TWITTER: @CHESTERNJSHOES & @SHOES4YOU
Stop in and explore the world of fit and comfort options, as our experts guide you through your FootSteps Personal Evaluation.
You'll be amazed at the difference - improved posture, and even a reduction in shoulder, back and knee pain. With some of our newer "technology" shoes, you can even increase your calorie burning power.
Also, we encourage you to sign up for our email newsletters and we'll keep you up to date on the latest updates in product offerings as well as general information about many health and wellness issues.
At Foot Solutions, we utilize advanced computerized scanning technologies to determine the optimum solution for people experiencing common foot problems. Bunions, hammertoes, fallen arches or just tired aching feet, our staff of skilled fitting professionals provide solutions with a broad range of footwear and the most innovative arch supports and custom orthotics on the market today. We devote 30-45 minutes on average with each client and we have a high rate of success in minimizing and/or totally alleviating foot and foot-related pain and discomfort. Stop in today and ask for our FootSteps Personal Evaluation... Your feet will be glad you did!
Click Here to Visit Our Website
| | |
| --- | --- |
| Monday | 10:00am - 6:00pm |
| Tuesday | 10:00am - 6:00pm |
| Wednesday | 10:00am - 6:00pm |
| Thursday | 10:00am - 6:00pm |
| Friday | 10:00am - 6:00pm |
| Saturday | 10:00am - 4:00pm |
| Sunday | 12:00pm - 4:00pm |




908.879.7300

We Accept
Foot Solutions

OUR NAME SAYS IT ALL... FOOT SOLUTIONS

We are the preferred referral by the medical community, insurance companies and workers comp claims
But our largest referral base are our customers
If store hours are inconvenient for you, simply call for a private fitting before or after store hours
Your feet will be extensively assessed paying special attention to a static and dynamic gait analysis as well as a computer scan of each foot. On average, our trained staff professionals will spend 30 to 45 minutes with you. This analysis and assessment is free to you.
We are here to help you!

Trained Consultants

Our trained footwear consultants will fit your feet with specially designed inserts for your particular foot shape and problem. Our extensively trained staff also has in-depth knowledge of proper shoe selection for customers who suffer from foot problems. When you slip your custom-made insert into one of our extra-depth shoes, you'll be amazed at the difference. Not only are our shoes designed to be therapeutic, they're also fashionable. Only you will know that you're wearing therapeutic shoes.

Chester Foot Solutions Staff: Owners: Michael Topeka, C.Ped Judith Topeka