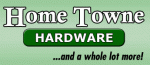 Hometowne Hardware
(908) 852-2100
234 Main Street
HACKETTSTOWN, NJ 07840
email: hometowne2000@yahoo.com
+ Additional Locations

(908) 852-2100

232 Main St

Hackettstwon, NJ 07840




| Average Rating: 0.00 |
Stop in and See Our Great Selection of Decoration in Our Christmas Shop
Home Towne Hardware is a full line hardware store. We offer a huge selection of hardware, electrical, plumbing, and auto accessories. Our paint department features Muralo paint, Cabot and Wolman stain and full line of sundries.
We repair screens and we cut glass too.
We specialize in a full line garden center for all your garden and landscaping needs. We are known for excellent quality annual and perennial plants, also a huge variety of vegetables ready for planting.
Check out our bird seed and bird feeders.
At Home Towne shoppers come from all over New Jersey and Pennsylvania to visit our Christmas Shop during the season.....
Like Us On Facebook..Click Below
| | |
| --- | --- |
| Monday | 8:00am - 7:00pm |
| Tuesday | 8:00am - 7:00pm |
| Wednesday | 8:00am - 7:00pm |
| Thursday | 8:00am - 7:00pm |
| Friday | 8:00am - 7:00pm |
| Saturday | 8:00am - 6:00pm |
| Sunday | 9:00am - 5:00pm |




We Accept
Fairy Garden Clinic

Posted: 09/24/2012
When: 10/13/2012
Description:

Fairy Garden Clinic: Saturday, October 13. 10AM to 12PM

Learn how to create a beautiful fairy garden.

We will help you put it together.

Clinic includes: 17" Planter Bowl, Soil, Stones, Succulent Plant, Fairy Figure. All this for $25.00. Plus you receive a gift coupon for $5.00 towards fairy garden accessories. Refreshments will be served.

Please sign up in advance. Space is limited.